I don't know about other new build properties, but in my mind, the bathrooms in my house are a disaster. They offer zero storage space and didn't even come with anywhere to hang towels! With toiletries for a family of five a lot of stuff gets piled up and looks increasingly messy.
Whilst mess obviously isn't the end of the world, it does make cleaning surfaces rather burdensome. Especially when dust starts to gather. More importantly, I want a place that I can also chill out when the kids are in bed (love a good bubble bath!) – and this means I shouldn't be stressing about mess
I therefore give you my top three easy steps to revamp your family bathroom:

1. Clear the clutter
I LOVE Marie Kondo. Not all her weird folding ways but rather the ethos that you should get rid of what you don't need. In order to work out what we actually use, I decided to clear EVERYTHING away. I could go to the box and take something out, but if I hadn't used it by the end of a month then it was banished.
This had a positive effect on the bathroom because it meant there was more space and it looked a lot less busy. I could actually utilise the storage rack properly too. Although the storage isn't what I would want in an ideal world – it is practical and easy to move for cleaning.
2. Add colour
I definitely think there's a place for cool, spa-like colours in bathrooms but for a family bathroom, I think bold colours are a bit more fun. I think this can easily be added through towels in bright shades or indeed paint. We obviously went for paint, choosing Radicchio by Farrow and Ball. Although our hallway is a fairly dramatic Plummet grey, this is an unusually bright colour for our house so really does stand out.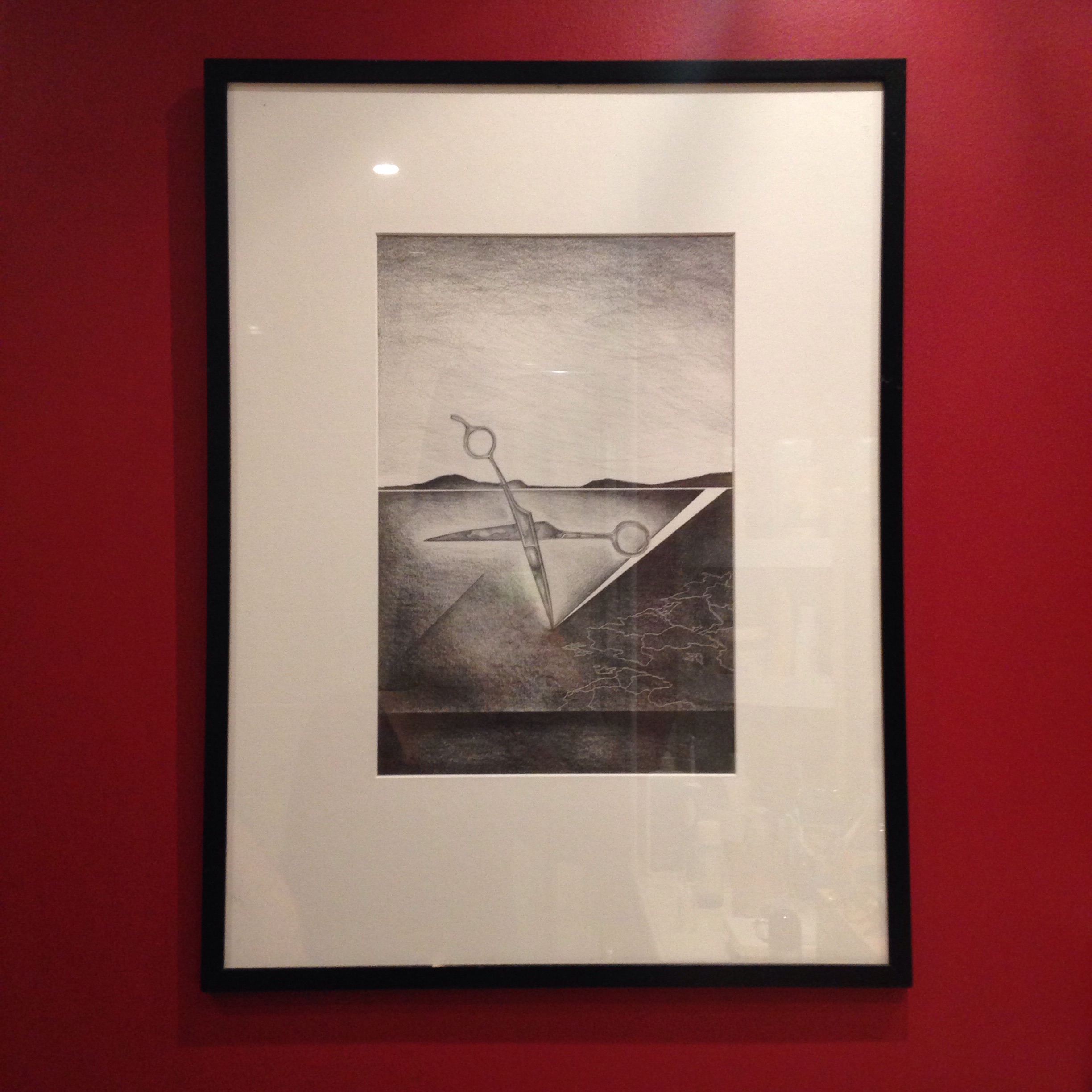 When my Mom was planning her bathroom, she was told to avoid Farrow and Ball as it becomes 'streaky' – this is the fifth bathroom I've used it in over the years and I really have never experienced those problems!
I do think that the use of bright colour against the plain tiles makes it look a lot crisper and cleaner than the original magnolia. We've additionally gone for monochrome colours in the art work which obviously stand out against the radicchio. We opted for pencil studies drawn by my husband, Mike – so obviously I'm proud to display his talents too!
3. Get attractive storage
Whilst I still need to do this, the next thing that has occurred to me whilst my decluttering is working out how to display useful objects such as cotton buds etc. in an more attractive manner. The White Company of course do a beautiful range of accessories for bathrooms – I was really taken with their glass containers which have hotel-like look. But given my kids ability to climb it may have to just wait.
Finally, toy storage. Like any family, we have an array of bathroom toys which need to be easily accessible for bath time. But they also need to dry afterwards. We've tried all sorts of net bags etc. but often found that suction cups fail to work. This typically happens in the middle of the night as they inevitably fall into the bath and scare the life out of me.
We've opted to store our toys in a set of drawers just outside on the landing, but a lower budget top pick would be the Sprutt storage duck from IKEA: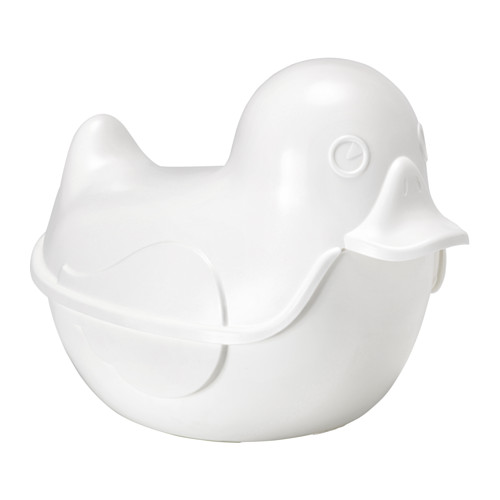 I reckon this would be able to contain at least a pirate ship if not more. It also looks a lot better than a mouldy old washing-up bowl. Although I would need to brave IKEA with the kids – and I haven't quite recovered from last time!
I would still dearly love to get heated towel rails or indeed rebuild the entire room to include proper storage. It also really bugs me that all the plumbing is tiled in (which I'm sure isn't allowed!). But until I get a decent lottery win – I'll keep to my tidying habits!
If you enjoyed this post, then please do pin it for later: