Samhain is soon upon us and lots of venues around Edinburgh are entering into the spirit of the season by putting on various events. Today we headed to Newhailes with some friends to try out their Halloween trail and craft activity.
Newhailes is a National Trust for Scotland property just outside Mussleborough. Built around 1686, Newhailes is heralded as being a magnificent and carefully preserved neo-Palladian villa and you certainly get a good feel for it's former grandeur. We went on a tour of the house two years ago when Katie was small and were impressed by the knowledge that our tour guide had of the house and it's history. There were tours leaving the courtyard at regular intervals today but with our gang of three year-olds in tow we kept to the outside trail.
Upon arriving (after paying £2 to park) we headed to the courtyard to find the Rangers handing out clue sheets for the Halloween trail. We handed over another £6 and headed off to chase after the children.
The first clue was easily found as it was in close proximity to the start but it then got a bit more tricky. There was a small map of the grounds divided into grid squares. Grid references where then given indicating where the clues could be found. A short description of each clue location was also included.
Clue 2: In the spooky wood
We were in general agreement that this part of the quiz would be very tricky for the majority of children and would probably defy some teens –  there were thankfully lots of people following the trail so it was pretty obvious where to go!
Each clue was clearly indicated by a spooky creature and all one had to do was identify the a picture to crack the clue. This was much easier for the kids to do so made sure the younger ones were included nicely.
What kind of bird is it?!
The trail took us all over the grounds and it was lovely to walk the tree lined paths. Autumn leaves were in abundance for kicking and there were plenty of sticks for the kids to claim ownership of. It struck me as a simple way to entertain kids of any age and enjoyable for the adults too.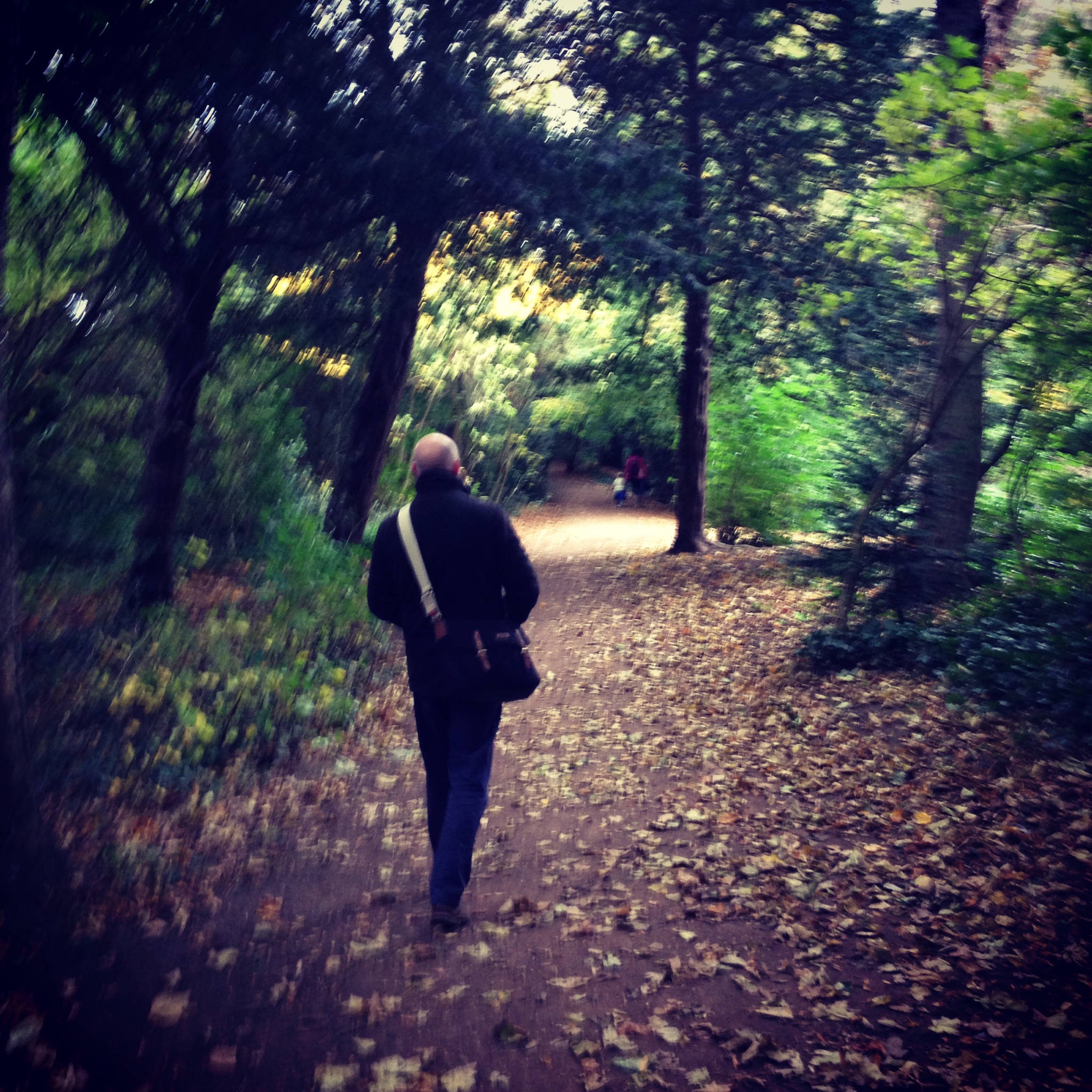 We were however very annoyed by the attitude of some dog owners. There were signs up clearly indicating an event and requesting that dogs be kept on leads. At one point a dog ran out of the woods and jumped on Katie knocking her to the ground. Katie was crying and clearly very upset. The owner rather than being apologetic said that  other children love her dogs. She seemed to see no need to put them on leads despite it being much larger than many of the kids there and evidently quite jumpy!
Her lack of manners was outweighed by the kindness of others on the path who took the time to ask if Katie was ok. She recovered quickly except for demanding to be picked up whenever another dog (on the lead or otherwise) was spied! Even thinking back over the event I cannot understand the woman's attitude.
Upon returning to the courtyard and handing in our completed quizzes the girls both received spooky skeleton toys and a sweetie each. Things were very busy and the babies hungry so we opted out of the craft on offer and headed to the cafe for a pick me up. My hot chocolate was delicious and sorely needed to warm up a little!
All in all, I felt £6 was a little steep for a simple trail particularly as we did not really have time for the craft after our snack. It's good to remember though that it goes towards the conservation of many different locations throughout Scotland and therefore isn't so bad.
Cheeky selfie in the woods!
Over Halloween weekend alongside Newhailes there are activities on offer at other National Trust properties in Edinburgh such as Gladstones land and the Georgian House in New Town. If you're not from Edinburgh it'd be worthwhile checking out local National Trust places to you.