I was so impressed with Thomas' present from my sister-in-law, Claire, that I just had to share. Thus the topic of today's post is Thomas' new baby sensory toys!
After seeing the array of toys at a friend's house I had been feeling vaguely guilty that I didn't actually have any toys for Thomas. Whilst he's still only five months, he is getting more interested in objects around him and is keen to shove those things into his mouth to chew on – with the arrival of two teeth this activity seems to be his most frequent pass time in fact!
The problem remained once I found that I was thoroughly unimpressed by anything in his age category on Amazon.  I was left wondering if an empty water bottle was an acceptable toy (it kind of is in my book!). Given this level of expectation, I was completely blown away by the gift of a hand-made bag full of suitable toys. Extra points are obviously added as she also has a small baby and still has the time/ability to make things!
Whilst I'm aware that there's a number of baby sensory classes running throughout the city, it's not something I was ever drawn to going to when Katie was a baby. However, she absolutely adored the sensory room at her nursery. To me, sensory play is using toys and objects to engage all of the senses focusing on touch, sight and auditory. In my opinion, this selection is perfect:
Strobe balls – these are rubber balls in different colours/textures that light up when bounced. We have one that squeaks as well to add in an extra dimension. At this point, Thomas likes to look at them and makes great efforts to gather them towards him during tummy time!
Material – we simply have two sheer rainbow scarfs that can be used to peek-a-boo or just to wave over Thomas. He usually giggles or tries to grab them.
Space blanket – this simple survival blanket is awesome. It reflect the lights of the strobe balls, feels funny but also makes a terrific noise when scrunched up. All of which Thomas can do by himself.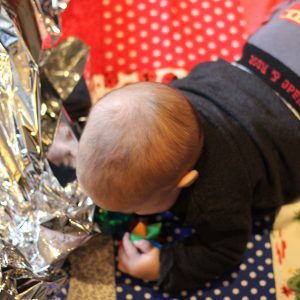 These toys keep him interested during tummy time and encourage him to roll. But they're also fun when he's sitting (supported) and it's really nice to spend time playing with him and Katie – who has been keen to join in.
The storage bag is an old sleeve that's been sewn together at the end. Then felt letters that have been stuck on to the bag. Very simple but so effective!
The only thing I can think to add is a 'shakey egg' – i.e. one of those maracas shaped like an egg! We've used them at song circle – they make a nice noise and are a good size for baby hands. Have you got any ideas? Or would you recommend sensory classes?