This past weekend we had planned on attending the Santa Parade and other festivities in Stockbridge, but with the arrival of 'Storm Desmond' we decided just to stay home. I was disappointed because I know that the events were organised by the local trade association and a bunch of shops were putting on cool little activities, but my cough is still going and Katie has also been unwell – so we decided that we would have a low-key weekend… but cheer ourselves up by getting a Christmas tree!
I wish that I could tell you that we went out to Craigies farm for a gorgeous lunch and to pick out tree from Dalmeny Christmas Trees, or even better picked up our Caring Christmas Tree thereby helping Edinburgh Winter Care Shelter… but in reality we went to Homebase. This utterly goes against my principle of shopping locally, and obviously doesn't remotely contribute to charity – but it was quick, easy and I picked out a really nice tree that isn't meant to drop that many needles (remains to be seen!). I'll appease my conscience by donating to charity instead but I'm pretty pleased with it really!
Step One was of course unravelling the lights and then replacing any that didn't work – I've now used up all the spares we have and one still doesn't work but at least it doesn't prevent the others from being on. I figured no one would really notice!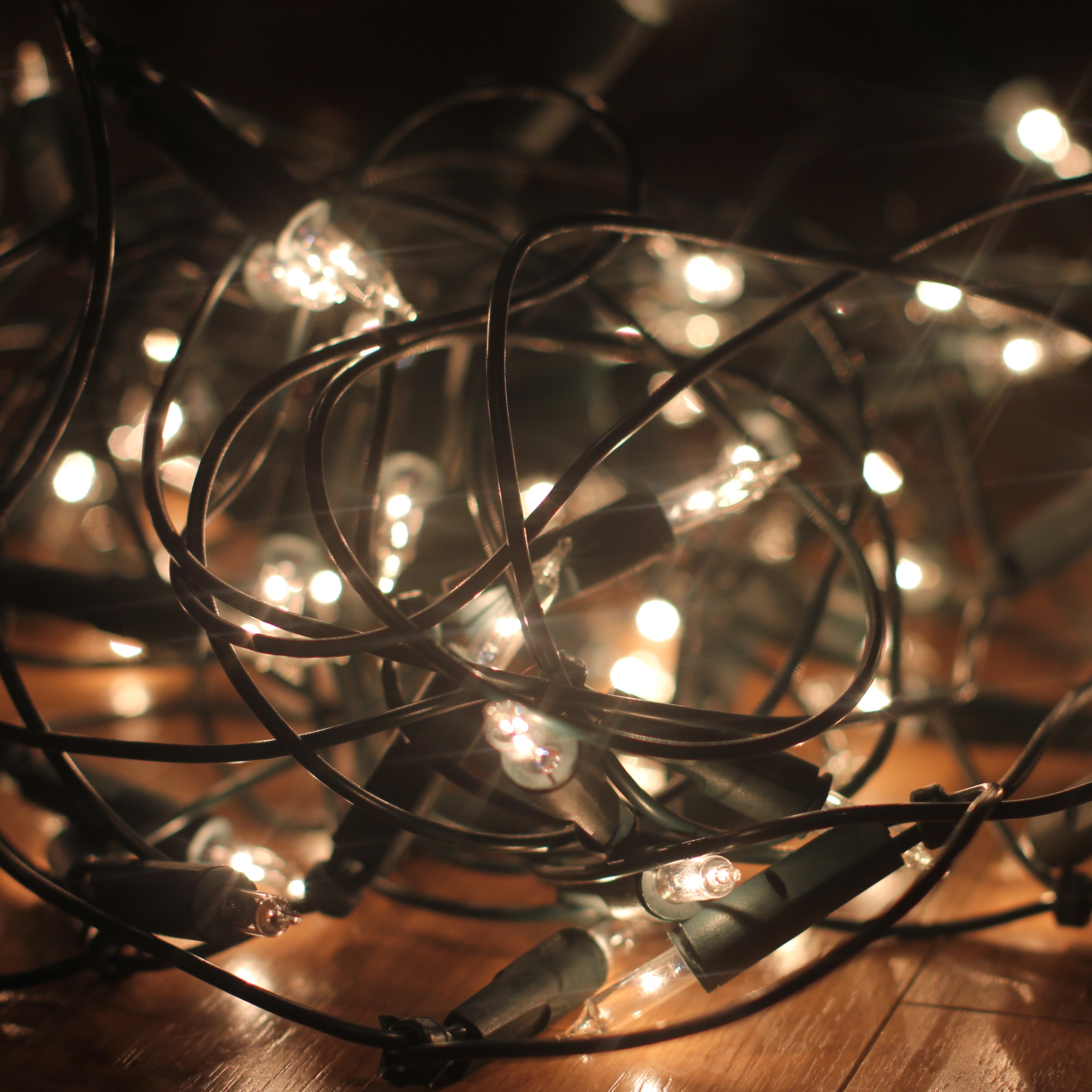 I read somewhere once that after putting the lights on the tree you should take a photograph. This is meant to allow you to see if the lights are balanced out properly – I guess it just means you really focus in and look at it in a more critical way. I thought it looked fine in the initial photo, but in reality the wires at the top needed sorting out for a bit.
Once the lights were on, we set about sorting the decorations out. To tie into my planned table setting, I wanted a really restricted colour pallet this year – sticking to silver, blues and natural wood decorations. In previous years I've tried to put bigger ornaments at the bottom of the tree and work my way up to the smaller ones, but this year I figured we'd just fire the whole lot up and it wasn't worth the energy of trying to dictate to Katie that much!
By this point, unfortunately Katie really wasn't feeling very well so rather than ploughing on, we took a break to watch the Muppet's Christmas Carol. Katie fell asleep within five minutes, but I greatly enjoyed it and was bemused at how many of the lyrics I still know – and how bad Michael Caine's acting was!
Thankfully, Katie rallied later on that evening and we got the decorations on the tree, whilst watching her current favourite – Caillou's Holiday Movie. Although I've seen it at least five times, anything beats Paw Patrol in my book!
I had been worried we wouldn't have enough blue coloured decorations but with the addition of our homemade salt dough creations – I think it was just about ok!
Katie definitely understands the 'Santa' side of Christmas, but I fear that my teaching of the Nativity has been lacking – pretty dismal given that my degree is in Divinity! I had forgotten that we have a little set of wooden nativity decorations so have at least now explained that we give presents because the Wise men gave special presents to baby Jesus. However, I suspect that when I ask her tomorrow, her answer will be something relating to Father Christmas again.
Have you got your tree yet? I'd love to see some photos over on our Facebook page if you'd like to share!