I think the fog that has descended on Britain has epitomised my week. I am so tired I feel like everything I do is like having to wade through this big cloud and my head feels just feels like fluff. Baby Thomas had his immunisations on Monday and has been pretty grouchy since. He hasn't slept as long as usual which in turn obviously means less sleep for me. Katie has returned to pre-school after half-term and whilst enjoying seeing her friends, has missed having her Dad at home and the slower pace the holidays provided.
I needed a style this week that was all about comfort but that could also deal with the changing weather. Sunday to Monday I was quite comfortable outside without a coat thinking November wasn't so bad really! All my clothes need to allow for feeding Thomas at the moment, but I also don't want to be all about that so still wear a lot of things I would even if I was bottle feeding.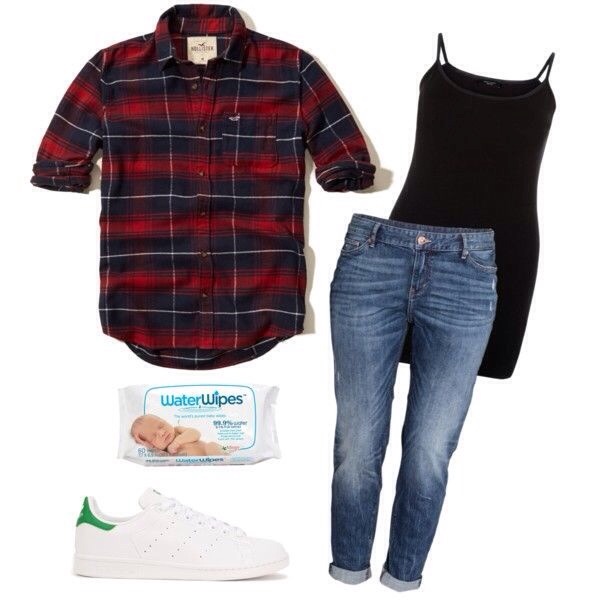 This outfit worked really well for the first part of the week – I often opt for this shirt/vest combo as it's easy to just pull the shirt round to be a bit more discreet if needs be. I like wearing these girlfriend jeans from Gap rolled up a little. The 'resolution fit' means that they are quite stretchy so I find them to be forgiving with the post-baby belly I'm still rocking. Finally, I was wearing my still super white Stan Smith Adidas trainers – a friend mocked me for being a cliche but I think these are so comfortable I don't really care!
Waterwipes have also been my nemesis this week! Thomas has super sensitive skin and I've found the brands I've happily used with Katie cause him to come out in the worst rash. I usually bulk buy these but for some reason my expected delivery got refunded and it's now saying out of stock. Just another thing to add to the fog that arrived on Tuesday!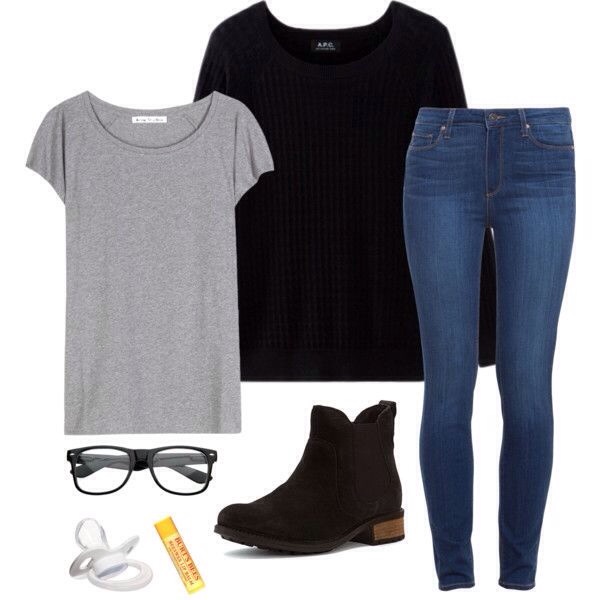 Since the weather has just been dreek but not cold exactly, I've still not worn a coat a lot of the time and just tried to move quickly through the drizzle so this outfit has served me well. As I wear Thomas a lot in the sling, I think it's like having a hot water bottle permanently attached so may well have needed more layers without him. I've opted for layers again but this time a t-shirt/jumper combo. A lot of my tees have a low neckline so I can just pull them down to feed and the jumper up – providing a little coverage. I've been wearing my skinny jeans (high-waisted to hold everything in!) rolled up with my new ankle boots.
I had always thought of Uggs as those soft sided boots with fur inside – incredibly comfortable but also quite ugly! I was so surprised when I realised that these Chelsea boots are actually Uggs. They're lined in the same way but with the added bonus of not letting water inside. I've been wearing them whenever it's a bit wet so I expect I'll get a lot of use out of them this winter. No one has spotted they're Uggs and all have been equally surprised when I've let on.
The Burt's Bee's chap stick speaks for itself, I love this stuff and it's a must as soon as the colder weather arrives. My current edition has been slightly destroyed by Katie insisting she wants to put it on herself but better that than my lipstick!
Finally, Katie's pacifier… we visited the dentist who has said she really needs to kick her dummy habit. We had been trying to cut down on her time with it making the rule only in the car and at bedtime. However she kept trying to sneak past us by hiding them round house – we'd find them in shoes, behind books, in saucepans… I'm still not sure where all the ones I've bought over the years have disappeared to! We've changed the rule to be bedtime only and Katie does seem to be ok with this as 'the dentist said' although she does often tell me she's sad without it (way to tug on the heart-strings!). The problem is I have no idea how to get rid of it at bedtime, she's a nightmare going to sleep at the best of times and sleep really is precious – if anyone does have a foolproof strategy, please share!
I'm really hoping that things pick up or I at least get more sleep. I've really been missing caffeine and the end is not in sight!