Last week I reflected on the difficulties I have of finding a concrete style and my resulting haphazard wardrobe. This made me think of some of the times I really wished I had more fashion sense and how I would approach similar situations in the future.
Back in May, I was invited to attend an information evening at my daughter's pre-school. Assuming that this would be pretty informal I went straight there from a work event in Stirling. I hadn't had to wear 'work' clothes so I was dressed pretty casually in some old faded cropped trousers and a top borrowed from a friend. As I had been in a rush to leave the house that morning, I did not take time over my hair or makeup either, so by the time the evening arrived I was not looking my best. To top it off I was six months pregnant,  so probably was sporting that slightly sweaty look that nice people call 'glowing'. To give you an idea, I had been asked by several people that week if I was having twins. (Note to people out there: do not ask this. Ever.)
As I was sat in the carpark ready to do into the school, I began to notice people walking past. Smart people. People really dressed up. People who in contrast to me looked amazing!
Realising I couldn't do anything about my lack of preparation now, I stuck my aviators on my head (nice accessory) and went to meet and greet!
In some ways the evening was more formal than I had imagined. We were all ushered into a big hall and there were far more people than I expected – wine was being served and there was a series of speeches from various important people. However, once we were divided into classes and shown to the respective rooms, we were sat on infant sized tables and chairs to receive lots of information which obviously wasn't formal at all. Admittedly, I did spy a fair few people in jeans and more casual outfits so I certainly wasn't completely alone – but I did make a note to be better prepared for next time.
I wish I could say the next time went better… but I really can't.
Katie was invited to attend a morning in order to meet some of the other children and her new teachers. This was obviously another opportunity for me to see her room and meet other parents. Given it was in the morning, I didn't want to go overboard but thought it would be a good idea to at least brush my hair and put some make-up on. I opted for jeans and a shirt as I had Thomas in a baby sling, who was only about three weeks old.
Thinking I was totally prepared, I got to the school early and got in the back of the car to feed Thomas, hoping that he would then sleep for the duration of the session. This all went really well until I went to get out of the car – the child lock was on.
I tried to open the windows but  by this point the car had powered down. I tried reaching into the front to open the door but to little avail. The only option was to climb into the front, over Thomas' carseat through a space that really did not look big enough. Then, as I was climbing, sod's law kicked in and I caught my trousers on the carseat – thankfully only ripping the leg rather than anything more embarrassing!
I got in the front, rather proud of myself for managing the feat only to see 'Random Dad' staring through the windscreen. He was of course dressed in a suit.
Obviously, I now know to keep the door open and I'd like to say that this hasn't happened again… but I now at least know some other parents so can shout for help!
Aside from my car acrobatics, what would I do differently next time? For the next evening event, I'd like to hit a balance between smart and casual. Or at least look a bit more polished!
I had a look through my existing wardrobe to think about what I could do a bit differently. In my opinion, smart skinny jeans and a t-shirt are a fine base but I would think these could easily be smartened up.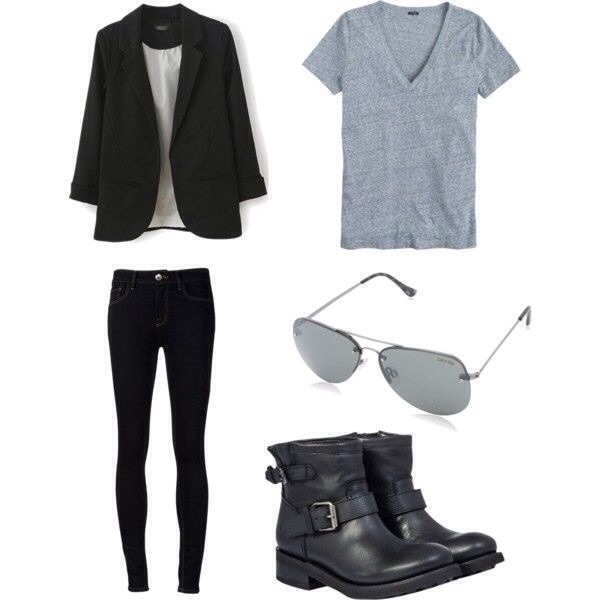 I put together this outfit using the 'Polyvore' app but have very similar items in my own wardrobe. I found a black blazer in Gap that I usually wear to work, but the cuffs turn back to reveal a striped fabric which I think helps to make it look less formal. My Biker boots are actually from Clarks, but have worn really well and won't need to be replaced any time soon… and of course, I would also keep my trusty sunglasses on my head!