I love to put rooms together and can spend weeks deliberating over paint colours; the problem I have is time. It actually takes a lot of time to put a room together, and any parent knows that time is always in short supply. Some rooms take time to evolve into their use, and it can take time to find furniture and more likely, accessories that go with everything else.
The problem I have with things taking time is that I get distracted by other tasks and fail to ever finish the thing I originally started. Then as the months or even years pass I stop noticing things that irk me. I learn to live with them, occasionally finding alternatives on Pinterest but never actually doing anything about them.
A prime example of this is our Master bedroom. When we moved in we had a hideous 'feature' wall that I am convinced actually involved glitter. As Mike also disliked it we were quick to paint the room. I went through at least five different samples before settling on Dovetail – a warm grey tone – by Farrow and Ball. I'm still not completely certain that I love the colour as I just can't seem to match it with other components of the room. At the time of painting I was well aware that the existing curtains didn't quite work but I thought – 'no problem, I'll replace them!' However… I still haven't.
Partly, that's because decent curtains are expensive and we definitely need something that blocks the light. Alongside the fact I've found much more fun things to spend money on. But it's also because of my indecision.
In the summer it seems simple. I seek out things that are light, airy and calming. I want to lose all the clutter and have a single white candle wafting a nice scent. All in all, I am realising that I basically want a spa retreat!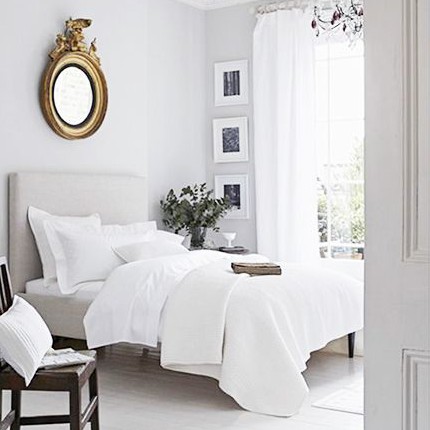 Light and bright
But as soon as Autumn rolls round I want almost the opposite. The rain and wind make me desire a warm nest of darker colours, a big extra throw on the bed and a heap of cushions to burrow under until the sun comes back!
Right now, I also have Thomas' cot set up as a side sleeper which may be adding to my desire to cozy up but needless to say – it's not helping me with direction!
I've already talked about coming to terms with living in a modern house and I really need to keep that in mind right now.
The rooms in the house really aren't that big so combined with small children, clutter can pile up faster than autumn leaves. Adding a lot of pictures on the walls or piling stuff on the bed can quickly make it feel very messy, and I don't want to add to the chaos of baby stuff.
How many pillows are too many?!
When I'm sitting in bed feeding the baby, the curtains seem to loom up taunting me that I've failed to finish the project. In the dim light, sometimes I even start to think that they're ok (which they are given that I can't see the colour!).
Still, I think what I really wish for is for someone to come hand me a set of curtains that would be perfect. Should I go for a darker colour or stick to that summer feeling and go light and airy? In reality I'll be sticking with dark turquoise for another few years unless you have the answer? Any suggestions would be most welcome!