As Autumn leaves began to fall in abundance in Edinburgh, I was keen to try lamb and date tagine from my 'Contented Calf' cookbook. Unfortunately, I wasn't specific enough on the shopping list and Mike brought home a whole lamb leg instead of lamb leg steak!
However, I figured that I could still create a lactogenic friendly meal by using similar seasoning. So I decided to mix up a marinade of fresh coriander, cumin, cinnamon, chilli flakes, turmeric, fresh ginger and crushed garlic before adding in a good slug of olive oil. I covered the meat in the mixture, leaving it to marinate over night.
We generally have more white meat than red so I followed the cooking instructions on the packaging the lamb came in and hoped for the best!
To accompany the lamb, I made spiced couscous by mixing some cumin and cinnamon in, before adding in some vegetable stock. Raisins were then added for sweetness, and cashews were toasted before being mixed in. In retrospect I should've added the dates that had been bought for the tagine but I can always use them next time!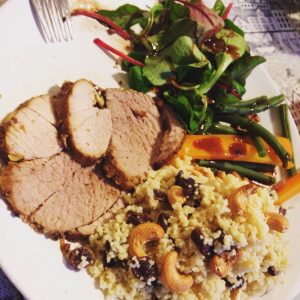 Tagine that wasn't tagine!
Katie is fond of both green beans and carrots so I wanted to include these as a 'safe' food as she isn't very familiar with lamb. Happily, she was hungry enough not to be bothered by anything and gave it all a fair go!
The salad included some spinach leaves (again lactogenic friendly) and was dressed with a homemade balsamic vinaigrette.
It wasn't what was originally planned, but ended up as a scrumptious Autumnal supper anyway!