Art class @artroom32 has been such a life saver in the last few weeks. Before Thomas was born I imagined I would entertain Katie in much the same way I always had:
I went to the Botanics. Thomas screamed all the way round hating his pram and Katie kept trying to run away when I wanted to feed him.
The play park. Try pushing a swing whilst feeding a baby. This one actually wasn't so bad as Katie is happy to play while I sit on the bench but isn't great in poor weather.
And swimming? I had the sense not to try! Clearly I hadn't thought things through that well.
Fortunately, the combination of Katie turning three and me being on maternity leave opened a whole new range of activities in Edinburgh for us. One of the most enjoyable of these is the art class at artroom32.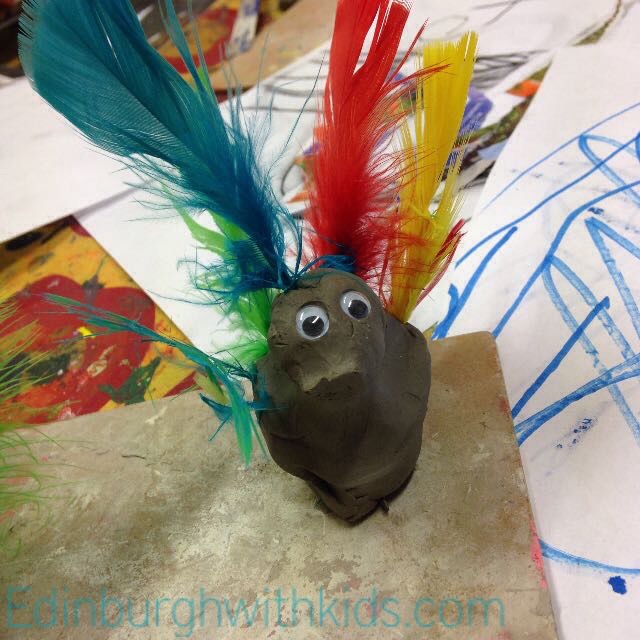 Katie has always enjoyed arts and crafts and through the class she has been introduced to a whole new range of materials. Think oil pastels, chalks, clay and collage with really gloopy glue!
Facilitating these types of activities at home have proved quite stressful with Thomas around as well. They generally culminated in a lot of mess and even painty hand prints going up my stairs!
Whilst attending an art class doesn't mean no mess, it does mean less stress. The studio space is well laid out and funnily enough, designed for art. So when split paint or mucky hands do happen, it's easily dealt with and most importantly – it's not in my house!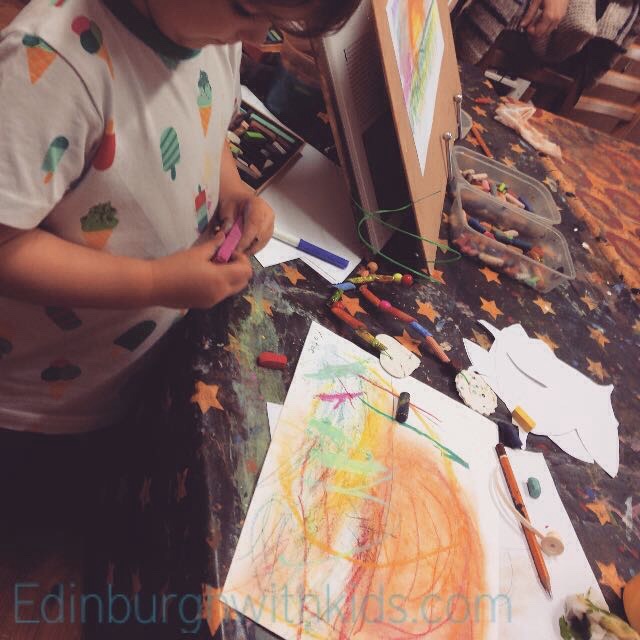 Louise, who runs the session is amazingly cool and encourages complete creativity. She seems utterly unfazed by what ever approach the kids want to take which produces some really good work: actual recognisable things rather than just blobs on a page!
You can book in for a whole term or four week blocks which I think is very realistic because you don't have to commit for a whole term. Three-year-olds can change like the wind and dragging an unwilling child along to something can be hellish!
Katie has enjoyed the novelty that each week has brought but also liked the chance to 'do her thing'. For example, at the moment the kids are working on a huge autumn landscape. Other classes are also adding into it and it's slowly taking shape. The kids loved being able to paint on something up on a wall and I thought it was great that Katie was allowed to paint blue when all the others had opted for green!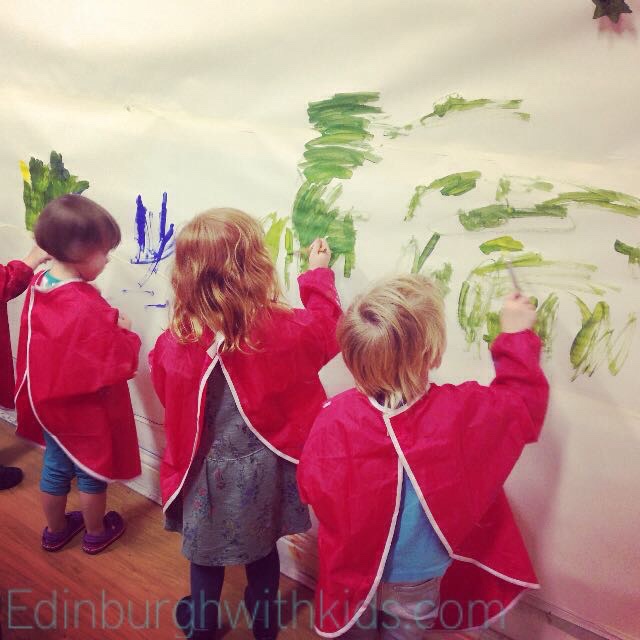 Another good thing about this class is that a few other parents bring younger siblings too so there are few crawlers and I can sit feeding Thomas whilst helping Katie if needs be – but Louise is always there too!
Other classes are available for different age groups including a useful class for 5-12 year-olds, scheduled to take advantage of the half day that many schools have on a Friday in Edinburgh.
It's such a chilled out place to be, that's so so friendly and welcoming. The only thing I would want is more time there!