Since 2004, the phenomenon that is 'parkrun' has been spreading across the country: volunteer-led, free-for-all 5K runs, every week, on a Saturday morning. Edinburgh of course, is no exception. In fact there are now two Edinburgh parkruns – the original at Cramond and a newer one in Portobello.
Beyond the fact that is free the parkrun website explains a little more about what makes it so good:
parkrun is all about inclusiveness and wellbeing. We want as many people as possible to feel part of a real local community brought together by our events, as well as our global parkrun family.

It's why parkruns are never more than 5km – it's a distance that anyone can complete (even if some of us are walking by the end…)

And it's why we've kept the format of parkrun so simple: register once, then turn up and take part wherever you want, whenever you want.
parkrun's simplicity is why it actually really works for families. On a typical Saturday down at Cramond you will see people of ALL ages running. Small children and Grandparents very much included. I would say the youngest children I've seen running were about 4 or 5 years old. All children have to be accompanied by adults and often take a walk/run approach so it's not overly aggressive!
I started going to parkrun when Katie was about 10 months old. This obviously meant having to utilise the buggy. Unfortunately I quickly found that my Bugaboo was not designed for speed. The front wheels wobbled like a supermarket trolley and made it very difficult to steer. Fortunately, Edinburgh Gumtree is brilliant and I was able to secure a running buggy for about £50.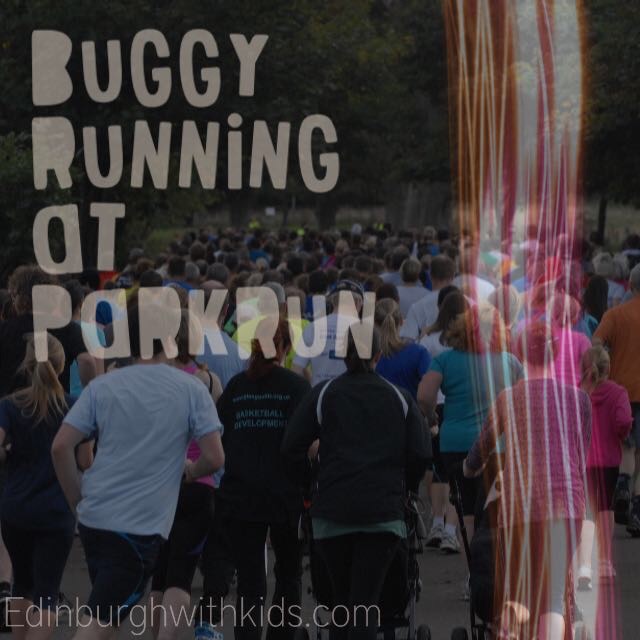 A running buggy is one which has a single wheel at the front which can be fixed in place – so no wobble! It's also generally much lighter, making it much easier to run with. This design also means it's less likely to tip so feels much safer.
Babies should be able to hold their own heads up to go in a running buggy – so will be around the 6 months mark. I feel this is a reasonable time to start warming up to running again anyway as ligaments can still be lose after pregnancy for some time and I think I have damaged my ankles enough over the years!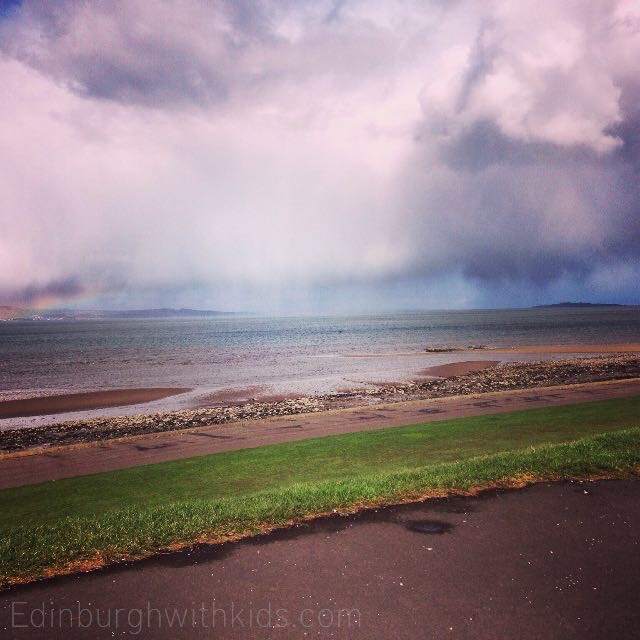 Good view makes running easier
Despite being very slow to begin with, I never felt unwelcome at parkrun. There were always people to chat to along the run (or more realistically struggle to breathe next to!) and super volunteers cheering along the way.
That said, I was also aware that there were people who were wanting to improve upon their times each week and it can be very annoying to get 'blocked.' It's not just the 'super fast' who fall into this category as some people may be just trying to get sub 30. Either way, a buggy can be irritating.
Mindful of this, I always started at the back of the 'pack'. Runners naturally spread out fairly quickly allowing you to find your pace anyway. I didn't find that my time was being adversely affected taking this approach and I slowly improved each week.
My stride was slightly different running with a buggy in that I was aware that I was taking smaller strides than usual. To remedy this, I often pushed one-handed and ran slightly to the side of the buggy, changing sides every so often. This was quite easy to do with a running buggy which is difficult to push 'off-course' and meant that I could run more naturally.
The biggest hurdle to buggy running was in fact Katie. There was at least one occasion where she was crying so much I abandoned the buggy and just carried her for the last bit! She thought this was great – I wasn't convinced. I can also recall one event where my friend Megan and I, just decided that despite being wrapped up, it was too cold for our babies and abandoned the run half way through opting to head off for coffee!
So in short my tips for buggy running:
1. Run with a suitable buggy to avoid injuring yourself (or baby if it tips over!)
2. Be aware of others around you and be courteous.
3. Don't take yourself too seriously: approach each event with realism and a healthy sense of humour!
I'm looking forward to getting back to parkrun when Thomas is big enough and am seriously contemplating whether I could run with a double buggy! I think Katie is a long way off being able to complete a 5K but hope one day we'll be able to complete it as a whole family. I rather suspect Grandma may not be keen on the running but they are always needing volunteers to fulfil various posts – it really is inclusive for all!
The details for Cramond parkrun can be found here.  If you're not from Edinburgh, check out the website to find one near you – I'd place good money on them being equally friendly!